Western Gunslinger Costume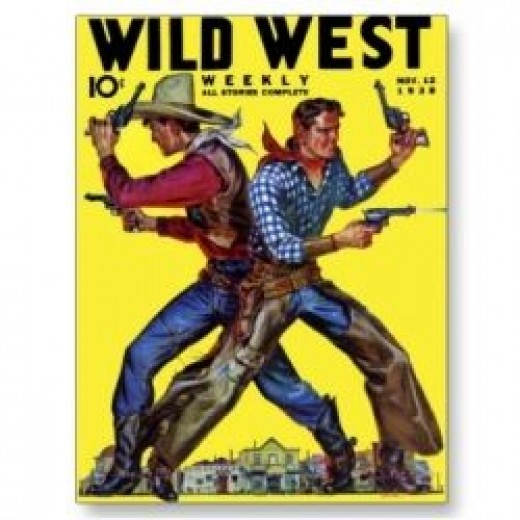 Wild West Costume for Halloween or a Fancy Dress Party
In the legends of the American West, the gunslinger was a person to be feared and respected. Many western films glorify the role of the gunfighter.
Dressing in costume as a gun-toting man of the wild west makes a memorable outfit for Halloween or other costume occasions. The costume can be an outlaw, a lawman or a fast-draw cowpoke. Perhaps you always wanted to be Clint Eastwood, James Garner (Maverick), or John Wayne.
Here are the components (gun, boots, holster, hat, etc.) for getting the proper look or you can get a pre-assembled costume that's ready to wear.
Wild West Weekly Nov. 1938 Postcard (shown above) by AmericanRetro.
Poncho or Serape for That Clint Eastwood – Spaghetti Western Gunslinger Look
If you want the honest-to-goodness match for Clint's poncho, here it is. It's pricey, but if it is more than you want to spend, look at the other recommendations Amazon has for you. There are some that may serve fine for a one-time costume use.
This is a classic. When you aren't wearing it, drape it over the back of the sofa for a touch of the southwest in your decor.
Clint Eastwood Western Vest – for a gunslinger or a The Good, The Bad and The Ugly costume
Sheepskin vest, just like you see in the western movies. Maybe this is where Clint gets his?? It is custom-sized for you.
For a more affordable costume, chose the Smiffy's combo which includes the serape and the vest.
Smiffy's Men's Authentic Wandering Gunman Dress SetView Details
Clint Eastwood Spaghetti Western Wool Poncho w Leather HatView Details
Clint Eastwood Western Cowboy Vest – E-MAIL FOR SIZINGView Details
Choose Your Guns, Bullets, and Holster – for the western gunslinger costume
These are affordable replicas of western holsters and six-shooters. If you want real leather holsters and even more realistic guns, click through to Amazon to see the complete range of replicas.
Smiffy's Men's Belt And HolsterView Details
Brass Colt 45 Replica Bullets – 6 Gun Revolver Dummy Ammo Cartridge Rounds – Exact Scale .45 CaliberView Details
Denix Old West Frontier Replica Revolver Non-Firing Gun, BlackView Details
Realistic Looking Cartridges for the Gunman
Fill your gun belt with these authentic looking bullets (above).
Replica Guns Suitable for a Gunslinger Costume – Non-firing
A great replica to use for a costume or to put on display. These have very positive reviews on Amazon. These are serious looking revolvers and give a very authentic look to your outfit.
Practice Up Your Fast Draw and Some Gun Handling Tricks
[youtube https://www.youtube.com/watch?v=eOfr6hU5fic?wmode=transparent&start=0]
Splurge on Real Cowboy Boots – for the gunslinger outfit and for regular wear all year
You can wear these for a costume, but they are great for full-time use as well. They aren't cheap wear-them-once kind of boots.
The roomy toe area makes these much more comfortable than the regular cowboy boot. I guess Clint Eastwood liked them as he wore this style in so many movies.
I've included costume shoe covers that give the effect of boots without the cost. These are fine if you just want a one-use look and would not get any further use out of authentic western boots.
Lucchese Bootmaker Men's Charles Western BootView Details
Clint Eastwood Western Cowboy Boots – Size 8.5View Details
Clint Eastwood Style Spaghetti Western Cowboy Boot Spurs – Great GiftView Details
Adult Western Cowboy Boot Covers – One Size Fits AllView Details
Quickie Costume or Really Authentic? – Here's What People Are Looking for
16% Nothing fancy, I'm only going to wear it once
36% I want it to look reasonably realistic, but not spend too much
32% I can wear the pieces at other times, so I want good quality
16% I'm not getting a gunslinger costume… just wandered by
Western Shirt for the Gunfighter Costume
Not just any shirt, this is your cowboy work shirt.
Stetson Bozeman Wool Hat – Every gunslinger needs a hat
What a great hat! Of course, Stetson is the right name for hat making from way back in the old west. This one comes in black, but browse the selection to see other colors offered.
Wrangler Men's Authentic Cowboy Cut Work Western Long Sleeve Shirt, Blue,17 1/2 35View Details
Stetson Men's Bozeman Wool Felt Crushable Cowboy Hat Black MediumView Details
Sharpshooter Clint Eastwood Good Bad Ugly Brown Leather Cowboy HatView Details
Practice Your Clint Eastwood Dialogue – 5 Film Clips
[youtube https://www.youtube.com/watch?v=BUKV9TKBEwo?wmode=transparent&start=0]
Mustache, Goatee or Sideburns for the Gunslinger Look
No time to grow some facial hair before the costume party? Try one of these western style goatees and mustaches. How's this one for style?
California Costumes Gunslinger MoustacheView Details
Self Adhesive Mustaches Set – Fake Costume Halloween – 3 Count (Packs of 12)View Details
Sideburns LIGHT BROWN – 100% Human Hair – no. 2019 – REALISTIC! Perfect for Theater – Reusable!View Details
Share with your friends