Invitations for an Ugly Sweater Party
Gaining in popularity, the ugly sweater party makes a fun alternative to old-style Christmas entertainment. To host your own ugly sweater party, start with the right invitations to set the mood. The ones I'll show you here can be customized with your date and address. Just add your own name and information to each. 
It's super-easy to do this with the Zazzle site. A number of artists created fun invitations and you'll want to order well in advance of your party. These are printed and sent to you. There's nothing like it in the stores.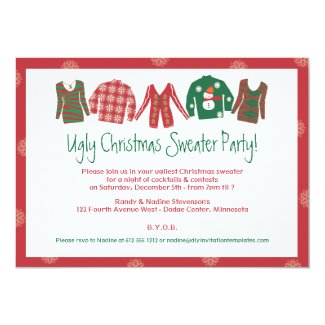 Ugly Christmas Sweater Party Invitation
by diyinvitations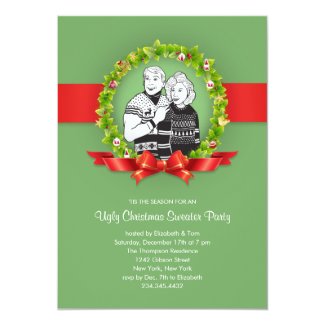 Ugly Christmas Sweater Party Invitations
by UniqueInvites
The great part about having this kind of party, is it gives everyone a chance to wear that really gaudy holiday sweater they have. You can even award a prize for the ugliest sweater or the most unique one.
If you invite me to your party, I have a sweater vest in black with red trim and bugle bead poinsettias that I could wear. Now beauty and ugliness are very subjective, so some might think my glitzy sweater worthy of an ugly sweater prize. I actually think it is quite fetching and wear it with a long black skirt for the holidays. 
If you have the perfect over-decorated sweater for wearing to one of these ugly sweater parties, tell me about it in the comments below.  
All ages can participate in the ugly sweater contest. Here's a boy with his Rudolph sweater on a candy-cane striped background and green trim.  
Take a look at more Ugly Christmas sweater party invitations online at
Zazzle.com
. While you are at Zazzle, take a look at the ugly sweater prizes like Christmas ornaments, Christmas mugs and pins that say Queen of the Ugly Sweaters or Winner of the 2015 Ugly Sweater Contest. 
I've ordered cards and invitations from Zazzle a number of times and the quality of their printing and card stock was quite impressive. You won't go wrong with these. Have a great party that your friends will enjoy and remember as a fun occasion. 
Share with your friends