Steampunk Fairy Costume Ideas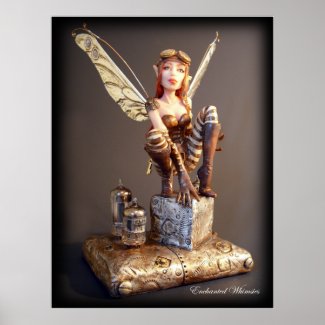 by enchantedwhimsies (available from Zazzle)
Steampunk and Fairies in Art and Costumes
Steampunk and fairies seem an unlikely combination. The merging of Victorian costumes with imaginative mechanical additions is the core of the steampunk look. Now, picture that in a fairy. Stretching your imagination? Here are some examples to get you started. I like to look at the creative art on Zazzle products for unique fantasy designs.
Drink MeView Details
Steampunk fairy all in red notebookView Details
Steampunk fairy all in purple car floor matView Details
Flirt Car MatView Details
Steampunk Fairy Case Meredith DillmanView Details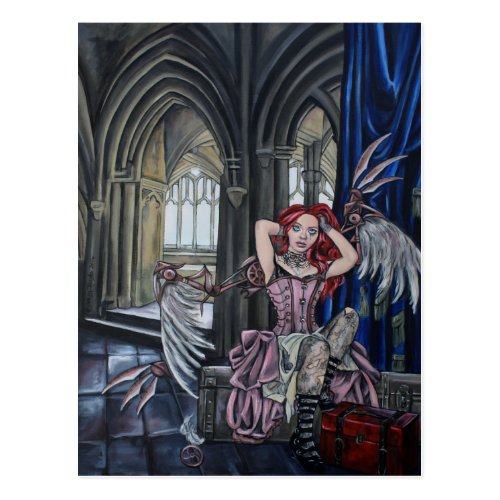 broken steampunk fairy art postcardView Details
Whether you want to create your own steampunk fairy costume for Halloween, for a convention, or for a fancy dress party, you'll find inspiration here. Perhaps you're just curious, and that's fine too. Take a look at the steampunk fairy ideas, graphics and costume pieces that I've collected here.
Wings – Fairies Need Wings
The wings can be butterfly style or angel-like or similar to dragonflies. Take a look at the sampling I've collected here for you.
Halloween/Party Prop Soft Fabric Butterfly Wings Shawl Fairy Ladies Nymph Pixie Costume Accessory (Blue Green)View Details
PGXT Halloween Party Costumes Feather Angel Wing (Black / 6045cm)View Details
US Toy Angelic Butterfly Wings CostumeView Details
Rubie's Unisex Mechanical Wings Costume Accessory, Devil, One SizeView Details
White Sparkling Fairy Costume Wings (Yellow)View Details
FashionWings (TM Black Butterfly Style Costume Feather Angel Wings Adult Size UnisexView Details
Fun World Women's Butterfly Wings, Black, StandardView Details
Zucker Feather Products Over The Shoulder Natural Pheasant Feather Wing, 24View Details
Shoes Are a Crucial Element in Steampunk Costumes
Here's another Zazzle graphic to inspire you. Steampunk draws on Victorian clothing but often adds colors and rich designs that might not have been available back then.
Steampunk Victorian fairy pillow
by meredithdillman
Angel Flex Women's Adult Jada synthetic 7 X-Wide US Women/RedView Details
Pleaser Women's Flora-1023 Ankle Boot,White/Black,10 M USView Details
SharpSpirit Vintage Style Victorian Steampunk Lace up Gothic Bohemian Boho Women Boots 9View Details
Cambridge Select Women's Steampunk Victorian Button Chunky Heel Ankle Boot (8.5 B(M) US, Black)View Details
Ellie Shoes Women's 253 Rebecca Victorian Boot, White, 9 M USView Details
Ellie Shoes Women's 420-Steel Slide Pump, Brown, 7 M USView Details
Dress Ideas for the Steampunk Fairy
You might have a dress that you can adapt for the costume or rummage around at the thrift shop in the prom attire. Here are some that you can order from Amazon. Corsets are often used in steampunk costumes for women.
Miss Moly Women Steampunk Faux Leather Bustier Sexy Dress Corset View Details
Halloween Gothic Pirate dress Steampunk Cocktail Party Skirts High-LowView Details
Dare to Wear Renaissance Corset Dress: Victorian Women's Gown For Halloween Cosplay FestivalsView Details
Forum Novelties Women's Steampunk Fairytales Sprocket Pixie Costume, GreenView Details
Add Accessories
How about a crown made of clock hands or a dragonfly necklace. There are so many options for dressing up your Steampunk Fairy costume. Often steampunk outfits include goggles or unique hats. There are wonderful masks or half-masks to enhance the costume.
Evil Queen Crown Ursula Tiara Octopus Tiara Steampunk Clock Hand TIARA Crown, Elven Fairy Costume Tiara, Black Gothic TiaraView Details
Queen of Hearts Crown Steampunk Clock Hand TIARA Crown, Elven Fairy Costume Tiara, Black Gothic TiaraView Details
Gothic Black Lace Bracelet Steampunk Slave Wristband Ring Sexy Halloween Wedding AccessoriesView Details
Apopo Steampunk Dragonfly Pendant Sweater Necklace with 22"ChainView Details
Steampunk Victorian Style Goggles with Compass Design, Emerald Green Lenses & Ocular LoupeView Details
Library Book Necklace, Librarian Pendant, Bibliophile, Classic Literature, Book Quote, Literary, Literacy, Gift Idea, Book Lovers, Read (8)View Details
Steampunk Victorian Style Goggles with Compass Design, Azure Blue lenses & ocular LoupeView Details
PunkStyle Steampunk Victorian Hat for Women Black with Metal Wing Cosplay Gothic Noble Top Hat (Red Rose)View Details
Mini Steampunk Black Top Hat on a Headband Cocktail Veil Women Costume AccessoryView Details
Women's Steampunk Half Adult Mask Venetian Silver Greek Roman Costume AccessoryView Details
SUPPION Women Rhinestone Half Face Sexy Black Mask, Cutout Eye Masquerade Mask Venetian for Fancy Costume PartyView Details
I hope I've inspired you to create your own unique fairy costume for this Halloween or for a special event.
Share with your friends