Decorating Your House for Halloween Just Got Easier with Window Posters
Imagine spooky scenes in your windows for Halloween or anytime you want to make your house look scary. Some brilliant person came up with the idea of putting full color, plastic film designs in windows for Halloween.
These decorations are quite dramatic at night when backlit by your interior lights. The whole neighborhood gets to enjoy these as well as your family and trick-or-treaters.
It's easy to put these up. After the holiday, take them down and store them for next year.
Put a Mummy in Your Window for Halloween – Window poster available from Amazon
People will go out of their way to drive by your house to view this mummy in the window. What a great look. Mummies have been frightening people for a long time. What would be scarier than a long-dead mummy peering out your window?
Which Frightens You More? A Mummy or a Vampire?
Vampire Window Poster for Halloween
WOWindow Posters – Vince The Vampire Scary Halloween Window Decoration, Includes Two 3 by 5-Inch Posters
This one looks quite dramatic. Place the two sections in side by side windows.
The way the hands reach out almost looks like the vampire is coming right through the window to get you.
Why People Love These
Very inexpensive.
Nothing to plug in (uses the interior house lighting to illuminate it).
Easy to fit to your house windows. Just trim the edges with scissors.
Can be used year after year. Just peel it from the window and roll it up to store compactly.
Put Jason Voorhees in Your Window – Creepy!
WOWindow Posters Jason Voorhees Friday the 13th Halloween Window Decoration includes 34.5″x60″ Backlit Poster
This one is too spooky. I can't put it in my window. Maybe you are made of sterner stuff and won't mind glancing up and seeing this guy silhouetted in your window.
Silent Shrieker Will Look Great in Your Window
WOWindow Posters – Silent Shrieker Halloween Window Decoration –  One 34.5″x60″ Backlit Poster
The Silent Shrieker anxiously awaiting all who dare to visit. Interior light illuminates the translucent window panels at night to add to the eerie effect. Decorative window clings are easy to install. Trim the panels to fit your window and attach with removable adhesive.
Cats Eyes for Your Windows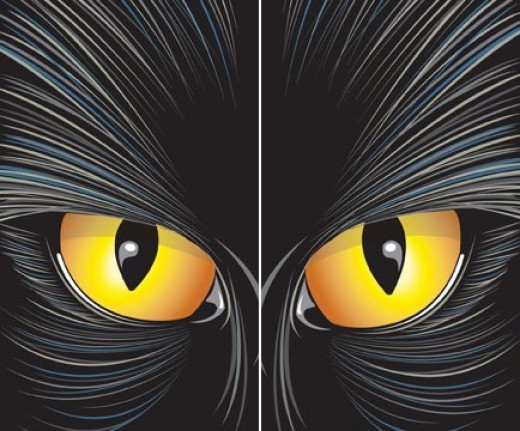 Photo from Amazon
Share with your friends