Grim Reaper Costume from a Graduation Gown
Make a Grim Reaper Costume from a Graduation Gown. Here's how to make this easy outfit. If you happen to have a graduation gown taking up closet space, then turn it into a Halloween costume or a costume for a fancy dress party. Even if you don't own one, you can sometimes borrow one or scrounge one up from a thrift shop. If you are using a thrift shop graduation robe for your grim reaper costume, you can opt to shred the arms and lower part of the robe to give a fresh-from-the-crypt look to the outfit.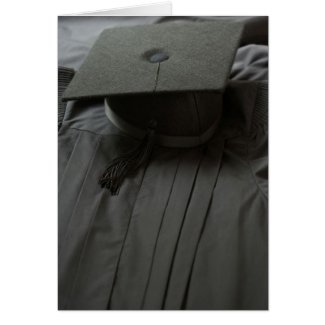 Graduation Cap and Gown
Greeting Card by FallSeason
Once you have the black robe, the most important part is the grim reaper mask. The one shown below covers the full head. Spooky looking, isn't it? This one is my favorite, but you can explore other versions on Amazon by clicking on the picture.
If you wear the robe open, a great effect can be achieved with a black t-shirt that has a skeleton design on it. Here's one that comes in various sizes on Amazon.
You'll need a length of black cloth to drape over your head and tuck into the robe. Probably the cheapest way to go is just buy some glossy black fabric at Walmart. You can safety pin it inside the shoulders of the robe so it won't slip off. You'll want some skeleton gloves to give the proper creepy effect as you hold your scythe. I recommend getting elbow-length gloves.
Black slacks or tights and black shoes would work fine for the lower part of the costume. If you prefer to go all out, then consider a pair of black tights with a skeleton design or a full bodysuit. Click on the picture to see the sizes and choices from a sexy catsuit for the ladies with a skeletal design or yoga pants.
The final accessory is the scythe that every grim reaper must carry. I found a video tutorial on the Instructables site for creating your own scythe or you can buy a handsome one from Amazon (just click on the picture shown below).
You'll have an awesome costume and get some use out of that old graduation robe too.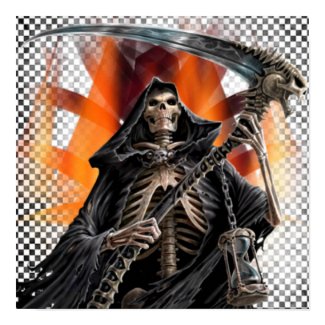 Reaper – Poster
by t_liscious Browse more Reaper Posters at
Zazzle
Share with your friends