Great Gifts for Insomniacs
Gifts for People Who Can't Sleep
For someone suffering from insomnia, giving them the gift of sleep is the most thoughtful present you could choose. You'll find here some unique products for improving sleep or helping someone get to sleep.
Insomnia, either occasional or chronic, affects one's quality of life. I know I'm a complete grouch if I don't get enough sleep. It makes it hard to concentrate and makes one feel lethargic and lackluster.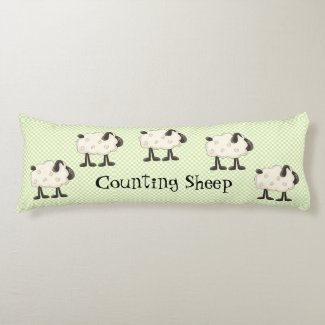 Counting Sheep Whimsical Body Pillow
by DizzyDebbie
See more
Body Pillows
Here are a few sleep-inducing goodies
Herbal sleep tea
A self-hypnosis CD for overcoming insomnia
A pillow with a speaker in it. It's great for listening to the self-hypnosis for sleep CDs.
A white noise machine
An ointment called Sleep Balm
A CD of nature sounds
A sleep manager
An eye mask to block out light
Special Tea to Help You Sleep
I've never been a tea drinker, but I've heard it recommended time after time. I really should learn to like tea.
UPDATE: I'm making progress with adjusting to tea drinking. The one I'm liking is chamomile with lemon. I put a teaspoon of honey in the hot water and then the tea bag. This should be much better for helping me relax and ready for bed in the evening in place of the hot chocolate that I used to drink.
Make sure the tea is decaf. Look on the box for the words sleep, soothing, relaxing in the tea section. Click through on the picture below to Amazon to see a variety of these. 
Music Helps Some People Sleep Better – Try a pillow with a built-in speaker
Listen to soothing music, white noise or a self-hypnosis CD with the built-in speaker in the pillow. You'll hear it clearly, but others won't be bothered by the sound.
Block out Light with a Sleep Mask
If you can't totally darken your bedroom, then the light may be keeping you awake. Try this old-fashioned, but effective remedy. Sleep Master Sleep Mask – Not just any sleep mask, this one is special. For best results, darken the room with lined drapes and use a sleep mask as well. 
This one fastens at the back with velcro straps, so you can adjust it for your comfort. This one is larger than you usually see in a sleep mask, so no stray beams of light will sneak in. 
For people who work a night shift, insomnia from trying to sleep during the daytime is quite aggravating. This helps overcome that issue. 
Self-Hypnosis to Improve Sleep
I tried self-hypnosis on a variety of topics (weight loss, fear of driving, etc.) and found it quite effective. Actually, I found no matter what the topic, it tended to relax me as I listened to it and before I knew it, I was asleep. I tried topics like adjusting to a divorce, improve your bowling and motivation for exercise.  Here's one specifically for insomnia. 
Make sure your bedroom is comfortable. Having a tidy, attractive space for sleeping is conducive to relaxing.
Here's the Ultimate Gift for the Insomniac in Your Life
Use this monitor to find your sleep patterns and the levels of sleep you are getting. It will help you figure out ways to improve these. Check out the reviews on this Zeo Personal Sleep Manager. 
Share with your friends