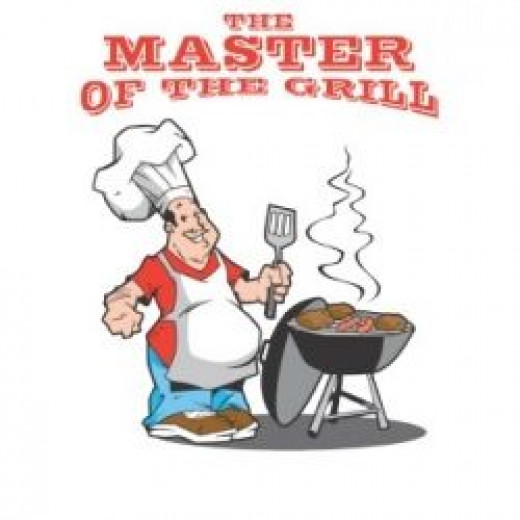 I Bet the Griller in Your Family Will Like The Above Design for Father's Day
Treat your "King of the Grill" to an apron that will make him feel like royalty.
Does Dad or Grandpa Like to Cook on the Grill?
Most men take pride in their grilling skills. Turning the meat over an open flame, applying the BBQ sauce and bringing to the table a heaping plate of savory meat is their specialty. The whole family loves the times when Dad presides over the barbecuing as it means summer time easy-living is here. Dining on the patio is so relaxing and a good time for the family to bond or a great way to entertain the neighbors and other friends.
Encourage your dad in his grilling exploits by getting him a BBQ apron for Father's Day or for his birthday. Here's a selection of catchy slogans and great graphics to appeal to any man.
 Funny Grilling Grandpa BBQ Cookout Barbecue Grill Adult ApronView Details Funny Pizza Man apron with fire flamesView Details Hell hath no fury red long apronView Details Personalized T-Rex ApronView Details Step Back, Dad's Grilling BBQ Great Father's Day Long ApronView Details I Got this – Don't Laugh (Funny) Adult ApronView Details Sorry for pretending that I knew how to cook ApronView Details Warning Grilling in Progress BBQ Party Adult ApronView Details
There are even some aprons for junior and for grandpa too. Include some grilling tools or some daring hot BBQ sauce for a great combination gift that dad, grandpa, and even a youngster will be pleased to open.
My friend commented that her son likes to barbecue and smoke meat outdoors. He says it just tastes better, and she says that she agrees. It also frees her up to concentrate on the rest of the meal.
Don't laugh at the STAND BACK, DAD'S GRILLING, I've seen some dandy fires on the BBQ grill and some of the meat I've been served at picnics goes beyond grilled to charred.
Some BBQing Tips for the Griller
[youtube https://www.youtube.com/watch?v=nknUicc8-uM?wmode=transparent&start=0]
A Selection of Sauces or Spices to Go with the Apron
Combined gifts are always nice. Your BBQ apron recipient will love these sauces to try out.
Complete Gourmet Grilling Collection, Spices, Rubs and Dryglazes Gift Set, Perfect for Weddings, Housewarmings or Any Occasion – Urban AccentsView Details
FreshJax Grilling Spice Gift Set, (Set of 5)View Details
Share with your friends